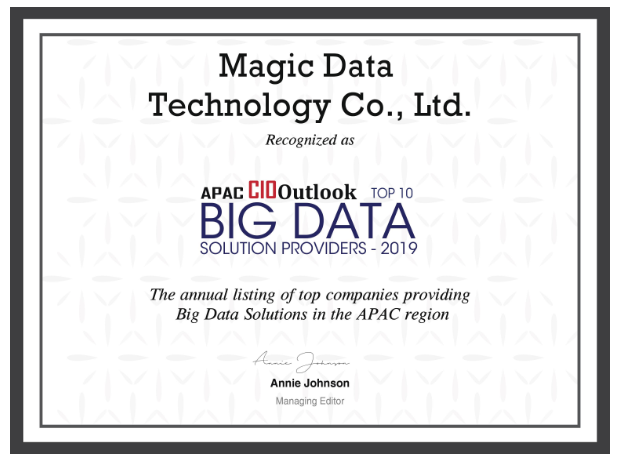 Magic Data Technology was featured as one of Top 10 Big Data Solution Providers 2019
Date : 2020-09-10 View : 1832
At the end of the year 2019, we are honored to be featured as one of APAC CIO Outlook: Top 10 Big Data Solution Providers.
Certification: APAC CIO Outlook TOP 10 BIG DATA SOLUTION PROVIDERS-2019 Nowadays, more and more companies are starting to see the benefits of human-machine collaboration. Since AI can free-up staff from simple tasks, and give more time to take care of the more complex problems or to ensure the best customer service.
But AI systems need huge amount of training data to learn how to carry out a task effectively. Thus data, as the foundation of AI industry, has become important. The ability of data collection and annotation is valued by the industry.
Based on the business insight and market expertise, APAC CIO Outlook has compiled a list of 'Top 10 Big Data Solution Providers – 2019.' The enlisted organizations are capable of steering clients toward excellence by extensively supporting them beyond the advisory level and bringing in the optimal solutions for the big data.
In the field of speech recognition, Magic Data Technology has established 100,000+ hours of multilingual audio databases, which can be immediately applied to improve model performance and help AI systems expand to different locations and domains.
Data collection involves a lot of resources, including environment, speakers, devices, etc. To meet the demanding acoustic requirements, Magic Data Technology designed a benchmark-level recording studio whose reverberation time is adjustable. The high- level collection environment greatly improves the quality and reliability of data and largely reduces the cost of subsequent processing and cleaning.
Magic Data Technology also developed on-line collection solution (through crowd-sourcing app), which could engage more speakers. The App uses AI technology to conduct real-time audition of online recording, reminding users to record their speeches correctly and save them the trouble of unnecessary do-over. This function improves data collection efficiency.
Data annotation is recognized as complex and time-consuming work. Leveraging by human-in-the-loop platform, Magic Data Technology combines both human and machine intelligence to process data. Through this platform, Magic Data Technology largely lightens the task of annotators.
Specifications simplify the work, reduce cognitive load, increase speed and consistency and reduce errors. For data annotation, Magic Data Technology's team has developed a set of labeling specifications to meet actual needs. For instance, the noise in the audio is clearly marked by unique symbol.
Magic Data Technology is committed to provide well-structured and precise data for machine learning. "We contribute to the industrialization of AI technology by producing high-quality data," remarked by Zhang Qingqing, our Founder & CEO.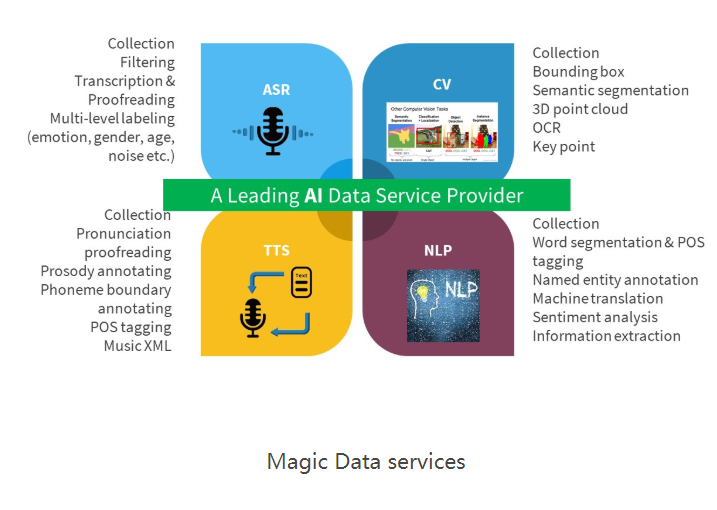 Magic Data services
About APAC CIO Outlook
APAC CIO Outlook is an enterprise technology magazine that aims to provide a platform for CIOs, CTOs, and other senior level IT buyers and decision makers along with CXOs of solution providers to share their experience, wisdom and advice, with a unique 'learn from peers' approach.